Germany: Into a new industrial age with New Space
The future of space travel is increasingly in the hands of private companies. They are revolutionizing a market that has long been dominated by states and space agencies. The increasing commercialization of space travel is a huge opportunity for our society and the industrial country of Germany. New Space democratizes access to space, provides the data for numerous digital services and helps solve key challenges facing humanity. With its New Space Initiative, the BDI is creating a unique platform for exchange in order to advance the New Space ecosystem in Germany. The initiative is intended to send a strong signal of a common departure in space travel for Germany and Europe.
New Space is becoming increasingly important for German industry
Space travel is part of the solution for global environmental and climate protection and for more sustainability on Earth. It provides the data for numerous digital services, new business models and technologies. Their worldwide commercialization – New Space – is a huge opportunity and is becoming increasingly important for the industrial country of Germany.
What is New Space?
The term "New Space" describes the commercialization of space travel and its increasing integration with the classical economy. More and more companies from numerous industries are using data generated by satellites for a wide variety of applications such as smart farming, logistics, Industry 4.0, infrastructure monitoring or autonomous driving. New Space has long ceased to be a niche: 76 percent of New Space companies already have customers from the non-space sector – and the trend is rising. The industry is full of start-ups, small and medium-sized companies and large system integrators. Competition between private players creates innovations that lower barriers to entry into space. New Space thus creates the conditions for new applications and data-based business models. This makes private space travel part of the solution to climate change and more sustainability on Earth.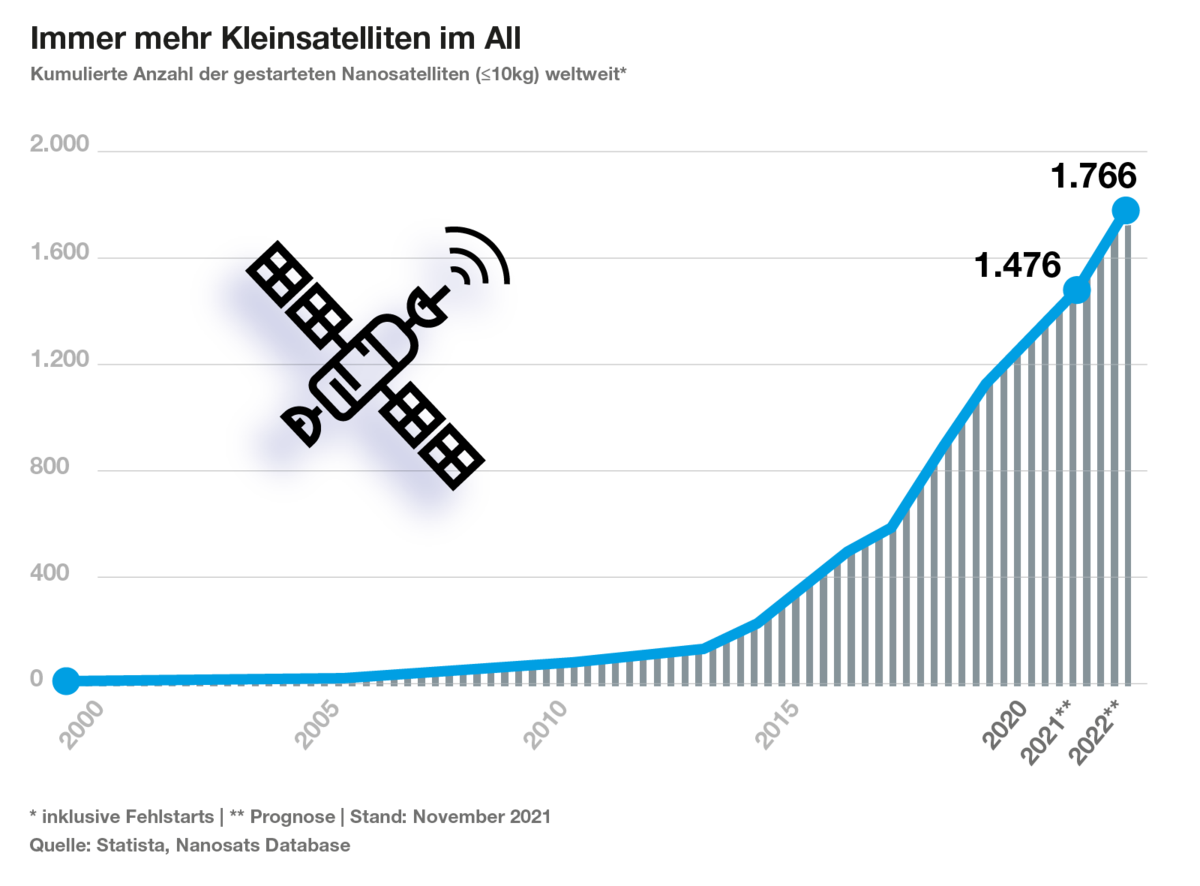 The increasing importance of New Space is also reflected in the number of satellite launches. The number of nanosatellites sent into space is estimated to rise to 1,766 by 2022. Up to 750 satellite launches are planned for 2021 alone.
What can New Space do?
Satellite-based data and applications are becoming increasingly important for German industry. They are the basis for new technologies such as the Internet of Things, data-based agriculture, autonomous driving and many other data-based business models. Satellites enable fast internet anywhere in the world or earth observation in real time to detect disasters such as forest fires at an early stage. For climate and environmental protection, New Space is an elementary part of the solution. New Space makes our country more digital, greener and more innovative.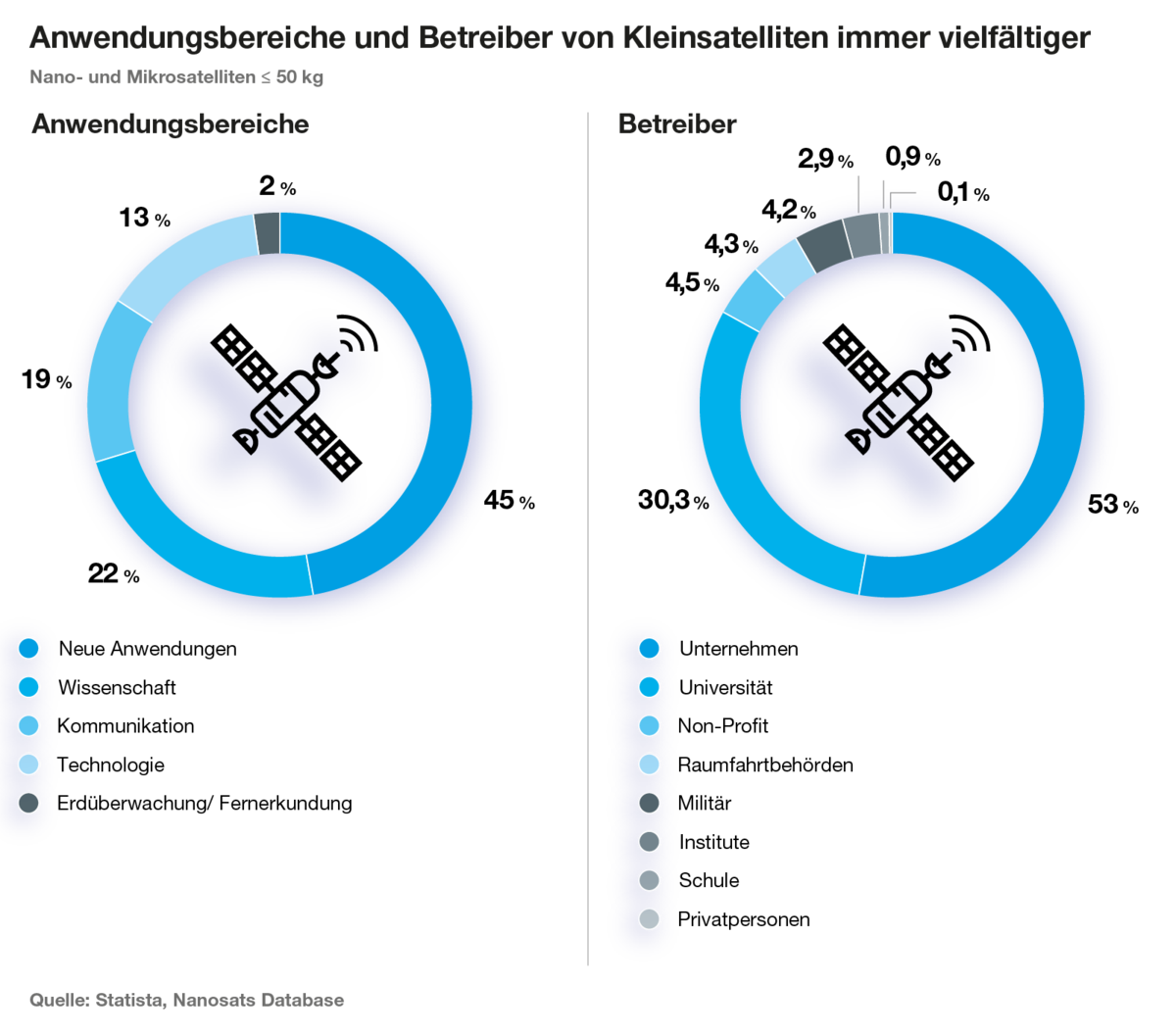 More and more technologies are based on New Space applications. The market is becoming more and more diverse on the customer and supplier side.
What does the New Space Initiative do?
The cross-sector and cross-industry initiative forms a unique association of new space start-ups, space companies, associations, traditional industrial companies and the digital economy. The aim of the initiative is to unite the various players under one roof for the first time and thus actively promote the digital transformation of the German economy through space applications. The initiative represents the interests of the participating companies and organizations and is politically committed to strengthening New Space made in Germany. More than 30 companies and associations have joined the initiative as founding members.
In the USA, large tech companies are already pushing into the space market in order to secure access to data generated in space in the long term by setting up their own satellite constellations. "Germany and Europe should not repeat the mistakes of the past and the resulting data dependency. The time to act is now. The new federal government should seize this unique opportunity and actively support the courage and commitment of companies," suggests BDI Managing Director Joachim Lang.
From the North Sea to space: the dawn of a new era of European space travel
For the launch into space, satellites from Germany and Europe have so far had to be transported to far away launch sites. The launch of a mobile launch platform for small launchers in the German North Sea is therefore a historic milestone. It offers Germany and Europe the opportunity to be at the forefront of the dynamic future market of space worldwide. In particular, start-ups and small and medium-sized enterprises benefit from the simplified and flexible access to space.
Who is involved in the New Space initiative?
Founding members of the initiative are Airbus Defence & Space, Berlin Space Technologies, BHO Legal, CGI Deutschland, ConstellR, eightyLEO, EXOLAUNCH, German Offshore Spaceport Alliance, High Performance Space Structure Systems, HyImpulse Technologies, K+S, KLEO Connect, LiveEO, Morpheus Space, Munich Re, Mynaric, OHB System, OKAPI:Orbits, OroraTech, Planet Labs Germany, REFLEX Aerospace, Rocket Factory Augsburg, S4 - Smart Small Satellite Systems, SAP, secunet Security Networks, Space Tech, UP42, Voith as well as the associations BDLI, Familienbetriebe Land und Forst, VDA, VKS and ZVEI.
Complete your e-mail address
to receive our industry leading weekly newsletter!
E-mail address: