CGWIC Launches Brand-New Full –Electric Propulsion Small Communication Satellite Platform for Customers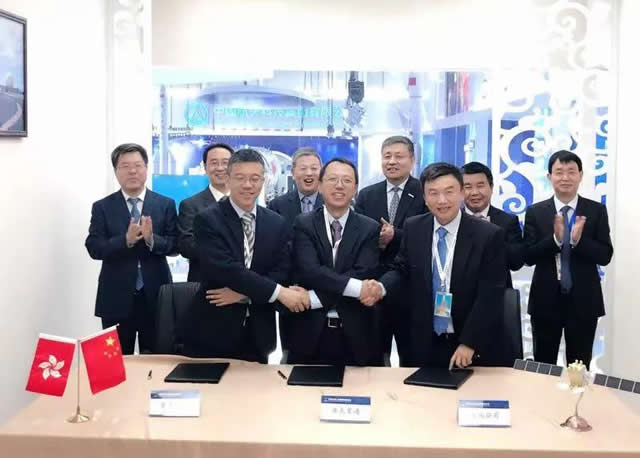 China Great Wall Industry Corporation ("CGWIC"), which is a subsidiary company of China Aerospace Science & Technology Corporation, and APT Mobile SatCom (HK) Limited ("APSATCOM") and APT Satellite Company Limited ("APT (HK)") formally held the Signing Ceremony of "Letter of Intent in APSTAR SMALL GEO Communication Satellites System"("Letter of Intent"). President of APSATCOM Mr. Li Jie, Vice President of APT (HK) Mr. Chen Xun and Vice President of CGWIC Mr. Fu Zhiheng completed the Letter of Intent signing.
The three parties shall develop The APSTAR SMALL GEO Communication Satellites System based on Dong Fang Hong-4 Full-electric SMALL GEO Platform ("DFH-4F SMALL GEO Platform") with all electric propulsion, a general communication satellite platform designed by China Academy of Space Technology (CAST) suitable for small-size payload with mature technology and high-qualified research & development process, cost-efficient launch services and high-efficiency ground delivery schedule according to analysis by CGWIC of current domestic and international space market trend. With the lift-off mass of 1000kg (maximum of 1300kg) and full electric propulsion design, the platform is capable to carry 300kg (maximum of 450kg), an equivalent to 15-25 active transponders or to be designed as a high-throughput satellite (HTS) payload, achieving an end-of-life payload power of 3kW(maximum of 4.5kW). The design operation life of small GEO satellite can meet the basic requirements of minimum 15 years in consistent with large and medium-sized communications satellites.
The satellite designed by DFH-4F SMALL GEO Platform can be compatible with medium capacity launch vehicles of Long March Family with high-efficiency and high-reliability, and its ground control system is highly commercialized, combined with high-quality satellite support services and competitive launch and in-orbit insurance arrangements. As the supplier and prime contractor, CGWIC is devoted to provide quality in-orbit delivery comprehensive solution to domestic and international customers based on DFH-4F SMALL GEO Platform.
APSATCOM, APT (HK) and CGWIC have conducted several rounds of technical communication on the first satellite of the APSTAR small satellite communication system and preliminarily agreed that the first satellite will be designed as a Ku-band multi-beam high-throughput satellite. As one of the APSTAR Global high-throughput satellite communications systems, it will provide satellite broadband communication services for both fixed and mobile application.
The procurement contract of first satellite will be signed after the completion of the technical and business coordination.