Arianespace launches ViaSat 2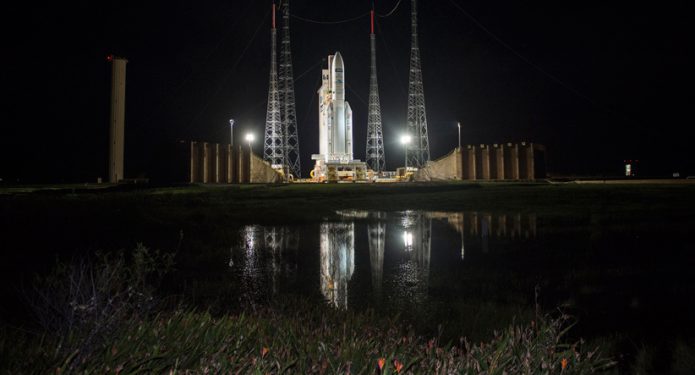 On its sixth successful launch during the first half of 2017, Arianespace set a new heavy-lift record tonight with Ariane 5 in delivering the ViaSat-2 and EUTELSAT 172B telecommunications satellites to geostationary transfer orbit.
This mission underscored the increased payload lift capability provided for the Ariane 5 ECA version during the heavy-lift workhorse's operational career, setting another record for the total mass carried into geostationary transfer orbit. The delivery involved a total payload of 10,865 kg. – of which 9,969 kg. was the net liftoff mass for the two satellites, with the other mass including integration hardware for Ariane 5's dual-payload deployment system.
"With this new mission, Arianespace once again demonstrates the availability and versatility of its launch vehicle family for customers," explained Arianespace CEO Stéphane Israël. "For the third time this year and the 79th time in a row, Ariane 5 performed flawlessly. Well done! Congratulations to all!"
Providing more lift capability to the workhorse Ariane 5 ECA
Speaking from the Spaceport, Israël noted the Ariane 5 ECA's payload lift capability has been given an overall performance gain of more than 1.5 metric tons since the beginning of this launcher program, and will be further increased in steps through 2019, boosting it by another 250 kg. – enabling Arianespace to meet evolving customer requirements.
This enhancement involves support of the European Space Agency, the French CNES space agency and Ariane 5 industrial prime contractor Airbus Safran Launchers, he added.
Tonight's mission – designated Flight VA237 in Arianespace's launcher family numbering system – keeps the company on track for the 12 flights targeted in 2017. It follows the five previous launches this year – two by Ariane 5, two by Soyuz and one by Vega – and clears the way for Arianespace's next Ariane 5 mission, scheduled for June 28, along with three more Ariane 5 liftoffs and two Vega launches planned during the second half of 2017.
The first passenger released during Flight VA237 was ViaSat-2, which is to be operated from an orbital position of 70 deg. West by ViaSat Inc. – a global broadband services and technology company headquartered in Carlsbad, California, USA.
ViaSat-2: enhancing connectivity over a wide coverage area
With the goal of improving global connectivity, ViaSat-2 is to bring considerable improvements in terms of speed, lower costs and extended broadband across its coverage zone – which includes North and Central America, plus the Caribbean, northern South America, and aeronautical and maritime routes in the Atlantic Ocean between North America and Europe.
ViaSat-2 was the second satellite to be launched by Arianespace for ViaSat. Based on Boeing's 702HP platform, it also was the 54th Boeing-built satellite orbited by the launch services company.
ViaSat Chairman and CEO Mark Dankberg, who watched the launch from the Spaceport's Toucan viewing site, said Flight VA237's liftoff was "spectacular," and he thanked Arianespace for a "fabulous job."